Recording:
The Future of Universities – The Colossal Campus | Is bigger always better?
Should a university always cater to the demands from society? Recently, the Executive Board announced a change of direction for the future of TU Delft. The question is no longer about how much our university can handle, but what this society needs from us and how we can rise to this challenge. And what this society needs, according to the Board, is more engineers. So more students need to be educated. Substantially more: the Board quotes a figure of forty thousand, possibly across multiple campuses, in Rotterdam and The Hague.
Meanwhile, substantial feedback has been gathered, from students, teachers and the city of Delft. But the question remains to what extent a university should meet the demands of the times. Who actually determines those demands: society, politics, or commerce? And does growth fit with the other challenges of our time, such as sustainability? Or the need for independent research, high-quality education and students who also have room for self-reflection? How does growth relate to the environment and the city? Or to the need to keep a campus liveable?
More questions have been raised than answered. Questions which are often abstract and difficult to get a hold on. This is why Studium Generale, in collaboration with Delta, has chosen a different format: a theatrical dialogue. Actors portray different points of view, allowing us better to visualise what the discussion is really about – from teachers, who see opportunities for cooperation in growth and multiple campuses,  to local residents, who fear more disturbance from students. In a theatrical dialogue, actors respond directly to voices from the audience; it is a form of improvisational theatre in which all present jointly decide how things will end. An expert panel offers further reflection on the issues raised.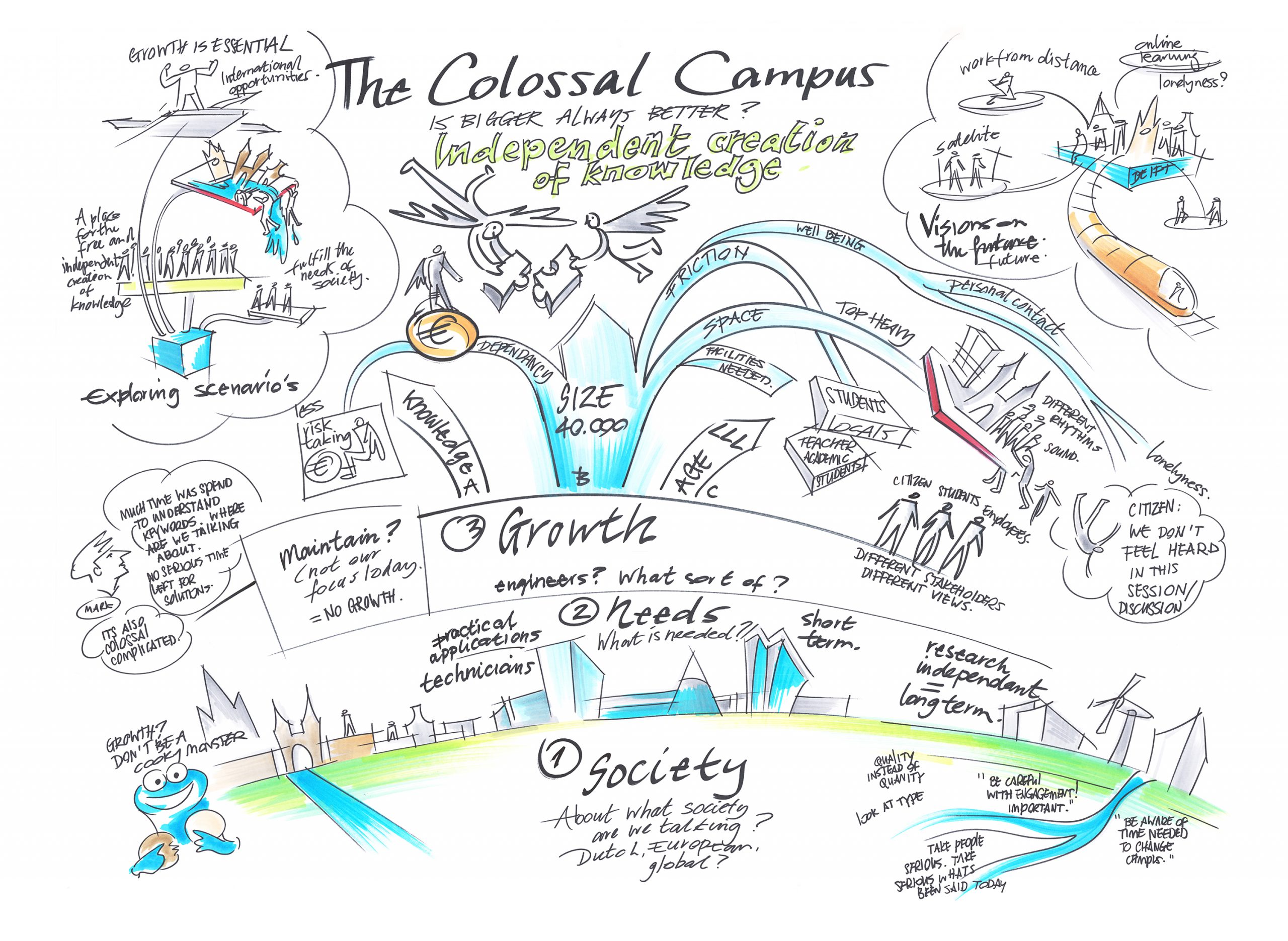 Remco Breuker is professor of Korean Studies at Leiden University. He is affiliated with WOinActie and co-author of the pamphlet Forty Propositions on Science (Veertig stellingen over de wetenschap).
Claudia Werker is Associate Professor in Economics of Technology and Innovation at the Department Technology, Policy and Management at TU Delft. She is an expert on (regional) innovative ecosystems, particularly studying the role of academics at universities (of technology) within those systems.
Marten Leenders is Chairman of the Central Student Council. His proposition: "Providing more engineers in the future should not come at the expense of student welfare."
Julian Gommers lives in the city of Delft. Having graduated and now working full-time as a software engineer, he has first-hand experience of what it is like to live in a city in which the university has such a dominant presence.
Frank Kupper is a stage director and actor; he is a researcher at the VU Athena Institute and designer of this theatrical dialogue.
Organised in collaboration with TU Delta Journalistic Platform TU Delft.
Visit the location's website
here
.