Recording:
Global Philosophies and the SDGs: Ubuntu, Buen Vivir, and Gross National Happiness
For the livestream please use this link.
As Einstein famously said, we can't solve a problem by using the same thinking we used when we created it. When we look at global problems and try to solve them, should we not look to philosophies and worldviews from around the globe?
Kicking off our new Global Philosophies lecture series, diplomat and researcher Dorine van Norren will introduce us to three different philosophies from around the world: Ubuntu (South Africa), Buen Vivir (Ecuador), and Bhutan's Gross National Happiness index, which is based in Buddhism. 
Dorine argues that philosophies such as these need to be shared and heard more. They provide different worldviews, important insights, and possible solutions to global challenges such as the UN's Sustainable Development Goals (SDG's). These seventeen goals, from ending poverty, to achieving gender equality, are claimed to be universal, but are mostly centered on Western modernity traditions and values. Join us for this lecture to learn about different perspectives and new possibilities!
Register for this lecture via Eventbrite
Dorine van Norren is a diplomat, policy maker, researcher, and artist. She wrote her doctoral thesis on various philosophies from around the world and their relationship to the UN's Sustainable Development Goals, focusing on Ubuntu (South Africa), Buen Vivir (Indigenous peoples of Ecuador), and the Buddhist Gross National Happiness concept of Bhutan.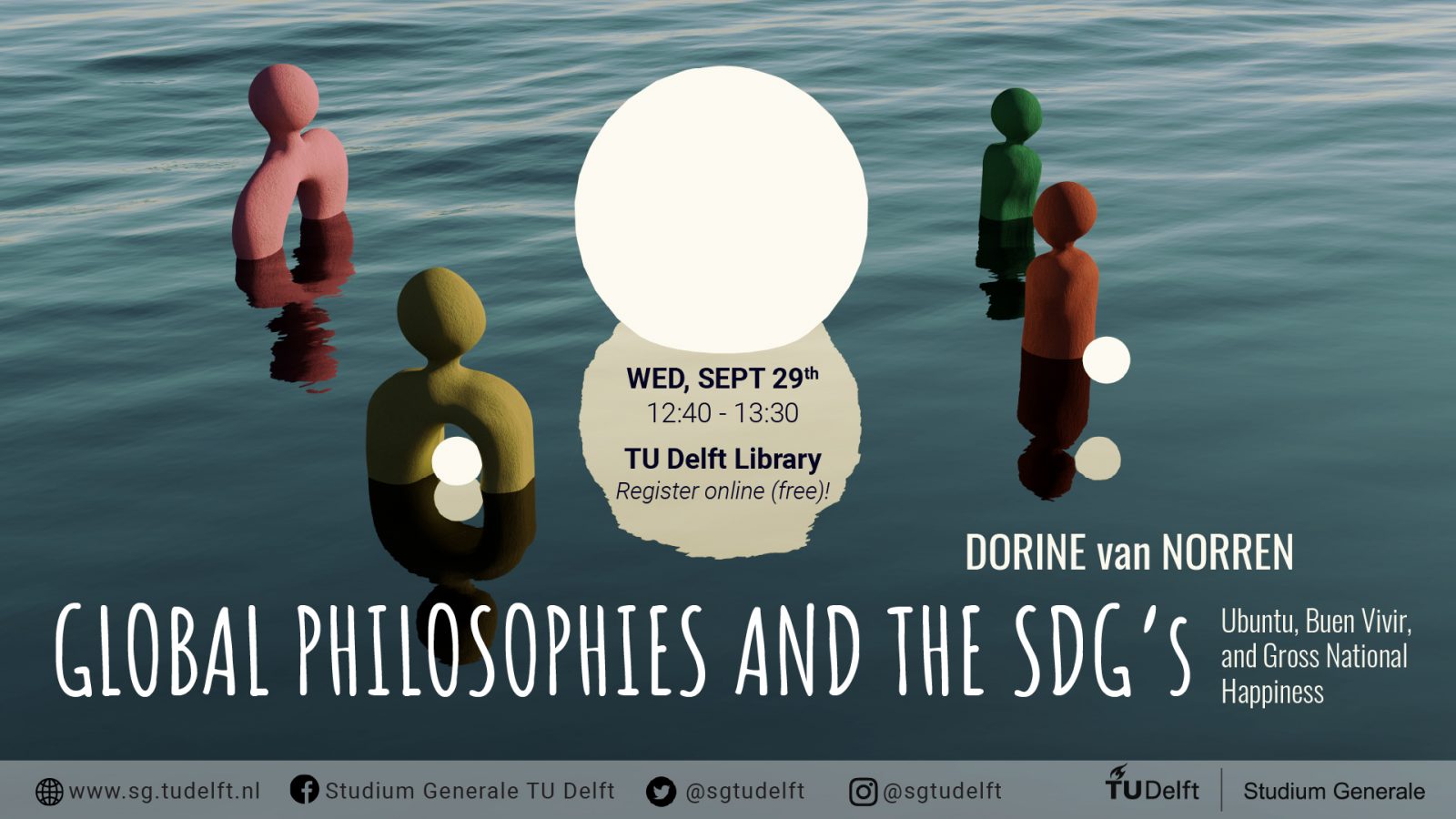 SG's GLOBAL PHILOSOPHIES LECTURE SERIES
Who am I? What is a good life? And how do you build a just society? Philosophy asks the big questions in life, but the answers of course are diverse. In the West we look to different thinkers and theories than in the East or the South. What else is there beyond Plato and Nietzsche? Studium Generale will introduce you to a series of different philosophical traditions from China, India, Africa, and the Americas. An acquaintance with other ways of thinking, but also with believing, seeing, and feeling, through philosophy, poetry, theatre, music, and other forms of art.  
Visit the location's website
here
.