Recording:
The Future of Universities | The Decolonial Campus
Limited capacity, please sign up through Eventbrite.
What is or should a university be in the 21st century? Is it merely a factory of knowledge, delivering professionals to the market? Or is it an institution of social and cultural value with a responsibility towards its students and society? In this series of lectures Studium Generale TU Delft organises several debates about the future of universities with speakers from within and outside TU Delft. 
The Decolonial Campus
Black Lives Matter, MeToo, climate change: society is in flux and a growing part of it is up in arms. Against strongholds where power structures remain which uphold inequality and patriarchy. And one of those strongholds is the university. The call to decolonise, decarbonise and democratise gets stronger here too, not only amongst students but also academics and university staff. 
University and its policy are challenged to act in line with their responsibilities. But students also confront their teachers on their study material or even whether their terminology conforms to the latest social and cultural movements. What impact does the Delft can-do mentality of engineering and design have on the rest of the world? And how does our curriculum hold up in terms of social justice and equality around the globe? What is the responsibility of our university to those outside of the Delft bubble?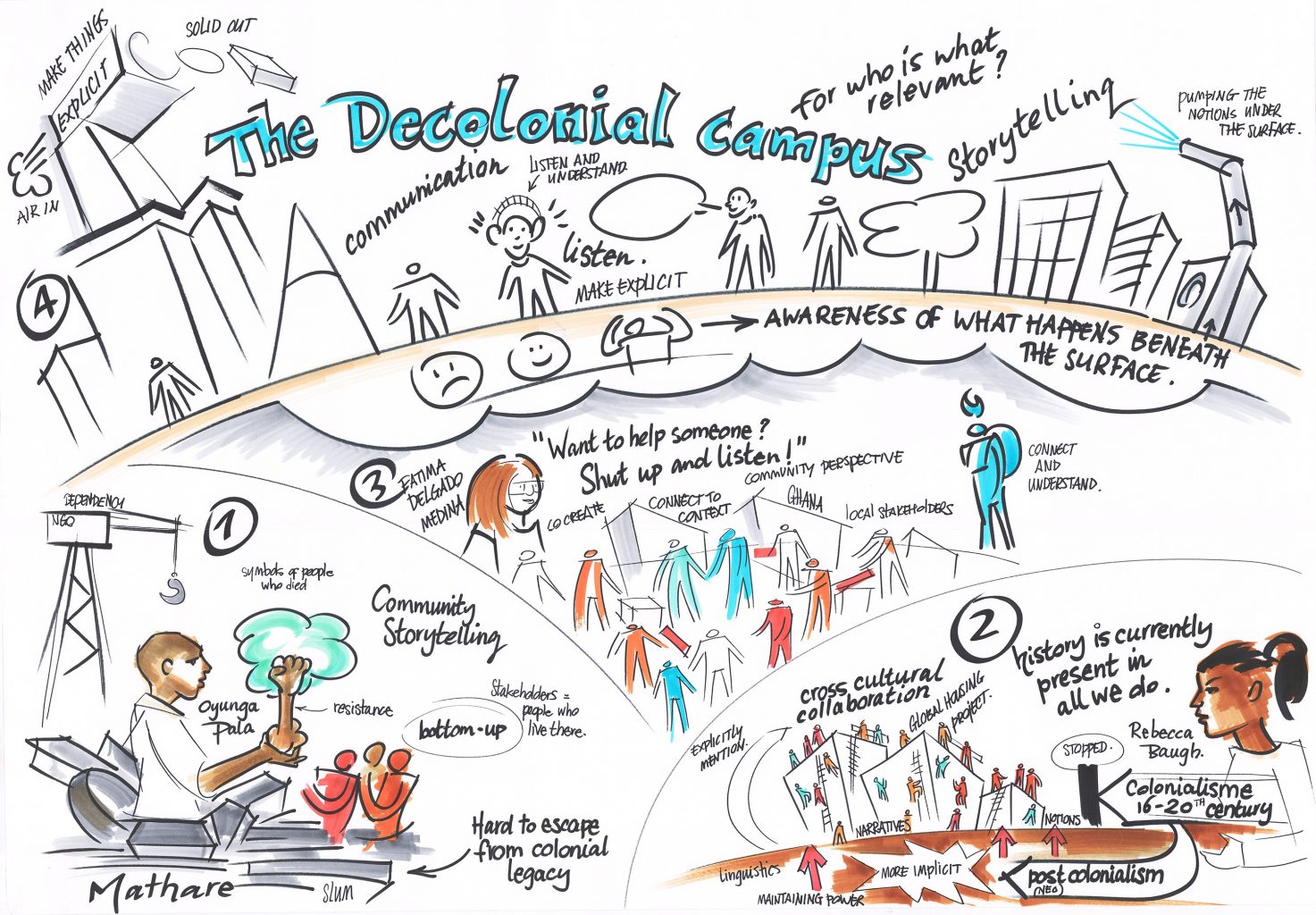 Oyunga Pala is a pioneering satirist and columnist. He remains one of the most impactful, Kenyan columnists of his generation. He examines the texture of everyday life, moving away from the traditional idea of African men as victims of modernity and disillusion.
Rebecca Baugh is a Diversity and Inclusion student assistant at the African Studies Centre at Leiden University. She graduated on how TU Delft's Global Housing studio has addressed or perpetuated colonialism and neo-colonialism while practicing in the Global South.
Fatima Delgado Medina teaches Sustainable and Circular Entrepreneurship and Circular Human Behavior at the Delft Centre for Entrepreneurship. She has more than ten years of experience in Sustainability Science and Climate Change research applied to startups and on-site projects in the regions of South America, Europe, and the US.
Moderator Mirthe Frese has developed many successful events on the intersection of society, politics and art for De Balie in Amsterdam. Since 2018 she works as a self-employed moderator and theater producer. She is currently writing a historical novel for Nijgh & Van Ditmar Publishers.
SG presents: the Future of Universities series
We currently live in an information-based society. This puts pressure on the university, since universities have a responsibility in the distribution and advancement of knowledge. The result is a work load going through the roof, emphasis on results and efficiency rather than the process and high demand for study places from all over the world. Next to that, there's little extra finance from the government, and so universities start operating more and more like commercial companies. 
This calls for debate and discussion. Where do we stand, where are we going and is this desirable? Studium Generale, in co-operation with Delta, organises the series the future of universities. Three afternoon debates with managers, teachers, students and policy advisors from TU Delft and philosophers, sociologists, journalists and other from outside. 
Visit the location's website
here
.