Kritiek op Alles, the innovative discussion format that brings together short YouTube clips and live interaction, is now for the first time being organized in English.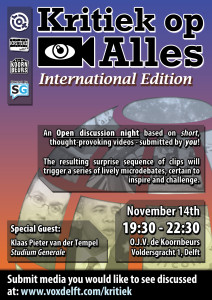 Together with the Koornbeurs and VOX Delft, SG is organizing an open discussion night based on short (less than three minutes) though-provoking videos, submitted by you! Anything you can think of that stimulates thought, or that you think ought to stimulate thought, is worthy to be included.
The video committee will chose the best videos from all your submissions and the resulting sequence will create an inspiring and challenging series of micro debates.
Our special guest for this even is Klaas Pieter Van Der Tempel a program manager at SG.
You can submit your media at www.voxdelft.com/kritiek
Visit the location's website
here
.