On the 20th of March a symposium themed "side effects of innovation" will take place. This symposium will be organised to celebrate the 150th birthday of the Gezelschap Leeghwater, study association of mechanical engineering at the TU Delft. On this day several topics will be discussed, for example the side effects of decision making with complex algorithms, the new Dutch law on digital intelligence and security ('sleepwet'), and the innovation of management in big companies. The symposium will be in English.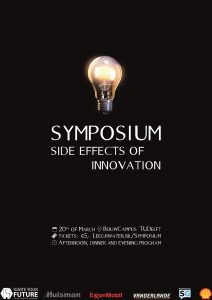 –       Location: Bouwcampus TU Delft (behind faculty of civil engineering)
–       Afternoon + evening (exact times still to be announced)
–       Tickets: €5,- at www.leeghwater.nl/symposium (only 200 available)
–       Dinner is optional (€5,-)
more information about the program coming soon https://www.facebook.com/events/1703854679671949/ .
This symposium is organized by Gezelschap Leeghwater in cooperation with Studium Generale
Visit the location's website
here
.