Please note – the date for this event was posted wrongly as October 10th. It is in fact taking place on October 4th. Our apologies for the mistake!
VOX Delft, the association for critical and creative thinking, is hosting their first movie night of the academic year.
2012 British documentary film directed by Sophie Fiennes and written and presented by Slovenian philosopher and psychoanalyst Slavoj Žižek. They are using their inventive interpretation of moving pictures to examine ideology – the collective fantasies that shape our beliefs and practices.
As usual VOX provides drinks, snacks and an open environment to express your opinions. Please sign up here so we know how many people to expect!
This event is organized by VOX Delft in collaboration with SG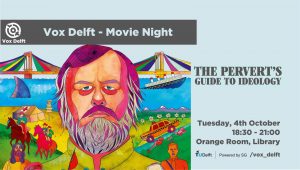 Visit the location's website
here
.