Since our very beginning in 1946, Studium Generale has been a nomad. For almost a century, SG was a vagabond, with no home to call her own. We have roamed the city and the campus, never residing anywhere for more than a few years. Now, for the first time in our history, we can ask the question: has the time come for SG to settle down?
Studium Generale organizes events that challenge the status quo. We bring people together to learn, to engage, to think critically about our crazy world. We host lectures, discussions, screenings, and workshops. We have a mission from the university – from the government, in fact – to serve students and the wider university community to create proper, critical, intelligent citizens. We are supposed to help them find their place in society – but we have never had a place of our own to practice what we preach. We don't have our own building on campus; no fancy theater hall; not even a dedicated closet in the basement that we can use for our events. Instead, we've had to rely on the availability of lecture halls (boring), study spaces (impersonal), and rented spaces downtown (with strings attached).
And it's not just the events. Our office also has changed location every couple of years, from somewhere along the Kanaalweg (in the now defunct Faculty of Philosophy and Social Sciences), to the former Cultural Centre (1998), to TPM – under the wings of the philosophy section (2002), to our present nest in the Library (2012). Once, we sat in glorious office spaces in the central Library hall, visible and approachable, but we were soon relegated to an invisible office behind a stack of books and a locked door.
Sad, right? Does nobody want us? If we need to serve everyone everywhere, don't we need to belong somewhere? Imagine SG as the pet kept on a leash in the backyard, staring at the door with big puppy dog eyes, never brought inside the house. Picture the annoying younger sister that wants to tag along with the older kids, but is never invited. When we so dearly want to be called into the house, to have our own space among the other departments!
Anyway, that's the tragic origin story that introduces a brighter future. Because SG's nomadic existence will soon be a thing of the past. We are claiming our space. We are taking root. We are creating a home for ourselves. And so we introduce to you: The Nook.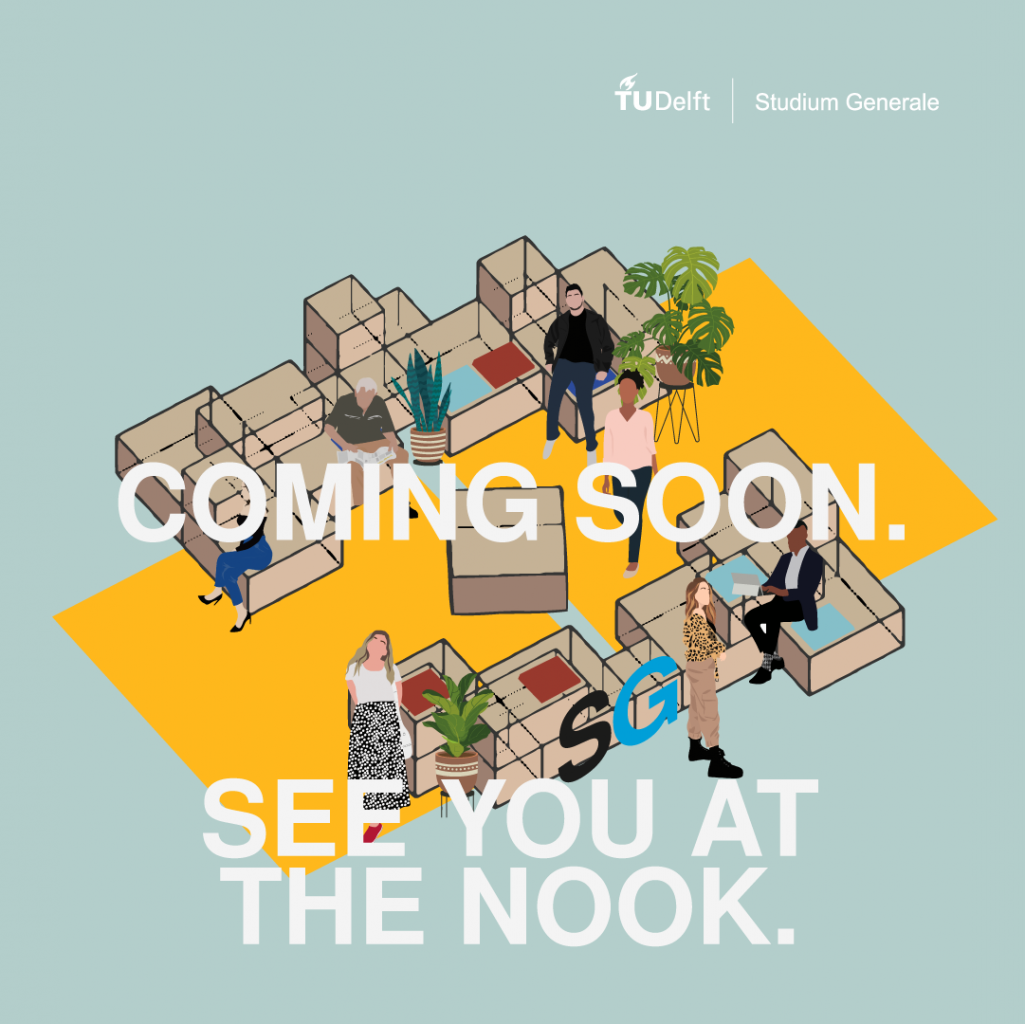 A nook is a small corner of a house – cozy and comfortable, where you snuggle up to read your book by the fireplace. Similarly, The Nook is our informal, personable event space, tucked away in a corner of the TUD Library. It's where you go to discuss the insanity of everything that's happening in the news; to plumb the depths of existence over a cup of tea with total strangers; to read wild sci-fi books; to write prose or poetry or sketch with other budding artists; to watch movies and shorts and rate them over pizza.
The Nook will be the heart of the campus, a microcosm where people from all over can connect socially, intellectually, and creatively. Make new friends, cultivate new insights, have an epiphany. And when you move on, you can leave memories behind in the form of words or objects, for future visitors to discover. At the Nook, we will do what SG is all about – get together to envision a better and more beautiful world.
We'll kick off with a series of events in September. There will be critical surveys, weird art objects, an interactive canvas on which to spout ideas and start anonymous dialogues. And, most importantly, there'll be you: the keen, socially-minded, intellectual rebel nerd who wants their university experience to really mean something.
This is only the beginning. What is now only a Nook, will one day be the entire building. We won't settle for less. And you're invited.
Klaas P van der Tempel – program maker Studium Generale