Recording:
Day of Sustainability 2022 Symposium
On the 29th of November, the annual Day of Sustainability will happen at X-Delft, starting at 13:30! The day will be focussed on the theme "Rethinking our Routines". There will be speakers, discussions, and multiple workshops on reconsidering the Western way of life. Afterwards there will be drinks to discuss the day! And best of all, it's free to join! The only thing you have to do is register. Use the link to sign up.
13:30 – 15:00 | Speakers & Discussion Panel 
Paul van Ruiten (climate consultant)

Biosphere Solar (circular solar panel start-up)

 

Andrea Gammon (climate philosophy)

 
15:00 – 17:00 | Workshops 
Students4Sustainability | Impact workshop
Let go of the conventional: design for impact. Step into the shoes of one of our latest projects and follow their struggles.  
LDE CfS & Shift Panel | Deconstructing your rituals 
Join us for an interactive discussion panel about degrowth, changing economic systems, and ecofeminism with Rutger Hoekstra (LU), Julien-François Gerber (EUR), and Donatella Gasparro (University of Münster). Click here for an in-depth speaker reveal with bio's!

Refill market | Lifestyle rethinking 
Be inspired by this zero-waste store located in the city centre of Delft! Make your own products and learn more on how to let go of your waste generating habits! 
17:00+ | Drinks  
Talk to all participating parties with some well-deserved drinks!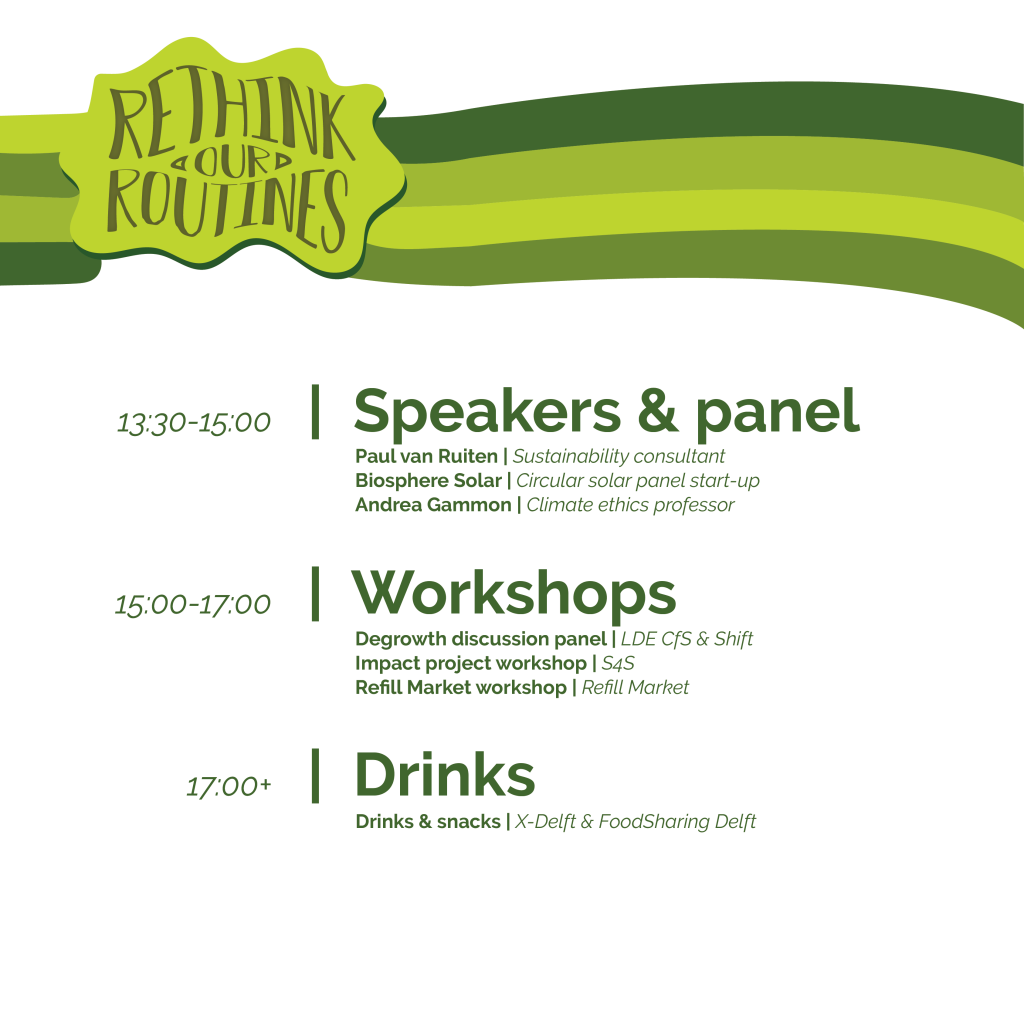 This symposium is brought to you by GreenTU, in collaboration with SG, Students4Sustainability, LDE Center for Sustainability, and IESA Shift
Visit the location's website
here
.